Joel Reese Entertainer - Keynote Artist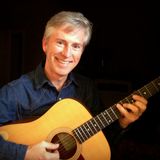 Joel Reese thrives on inspired engagement, connecting with audiences through a wide variety of some of the greatest melodies of all time. Joel also features original music, instrumentals, positive life and business messages, and light humor.
Specializing in reading an audience; Joel pulls from 32 years experience and some 500 songs to feature the appropriate music and messages, vibe and volume for each venue setting.
Music Artist and Entertainer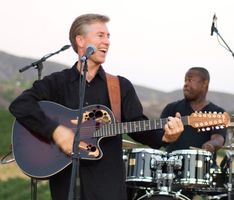 "I believe the power of love, music and humor make for medicine that heals most anything that ails you!" 
With a contagious smile, a crooning vocal style and an obvious love for life and people, Joel Reese brings a rich repertoire of beautiful, moving music and comical quips to his audiences.
"I'm primarily a storytelling balladeer. But as an entertainer I like to rock it up a bit. I thrive on spontaneity and I aim to inspire, making people "feel" the music and move them through a range of emotions and musical styles."
Performing for guests such as former Texas Governor, George W. Bush and television personality, Barbara Walters, Joel's musical journey has been filled with many rewards and surprises!
Joel croons the soaring ballads and effortlessly adapts to the swinging jazz standards and the edgier, fun, country rockers as well.
"I'm on a life-long quest to entertain and hug every listening ear on earth! I look forward to meeting and engaging you and your friends!" - Joel
Joel Reese The Singing Cowboy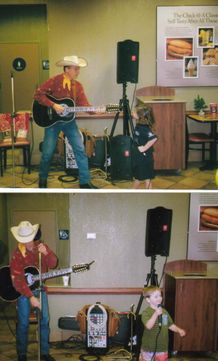 From Ranch to Rodeo and Opryland to LEGOLAND, Joel Reese "The Singing Cowboy" brings twenty-six years of professional entertainment, as well as sixteen years of pre-K-12th Grade edu-tainment programs to you and your guests.
Joel was one of the songwriters used by The Country Music Hall of Fame for their "Words and Music" elementary school programs in Nashville, Tennessee from 2001-2007.
Opening shows for Western artists such as Riders in the Sky, Michael Martin Murphey, and The Sons of the San Joaquin, Joel shares a love of the land, wildlife, livestock, and the cowboy way-of-life through story and song.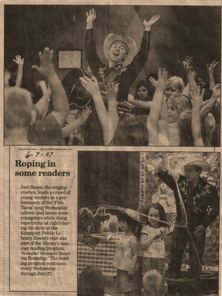 While perfoming for students, Joel shares the character traits, habits and routines that have been necessary for achieving many of his goals and dreams.
Joel is grateful for the goals achieved and the surprises received such as being asked to perform before former Texas Governor, George W. Bush, write songs for the Vanderbilt Kennedy Center's "Ready, Set, Van Gogh" program, and most recently to work with a farming family in Temecula Valley. Joel lives in the Temecula Valley with his wife and children.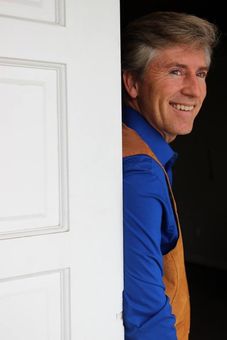 About the Artist:
After creating visual and musical fine arts for over 25 years,  Joel is currently creating wine country-related photo art of the Temecula Valley in Southern California.
Joel is also documenting the crews behind-the-scenes
in the vineyards and in wine production to cast a spotlight on those who make the wine lifestyle possible.
Raised around horses and the ranching and farming way of life, you will see his collection of western art and nature landscapes on display as well.
A one-of-a-kind 30x40 canvas wrap image titled "The Farmer's Hands" was commissioned in May by Leoness Cellars featuring the hands of Gary Winder, co-owner of Leoness Cellars and farmer in Temecula Valley since 1974.  
                                   "The Farmer's Hands"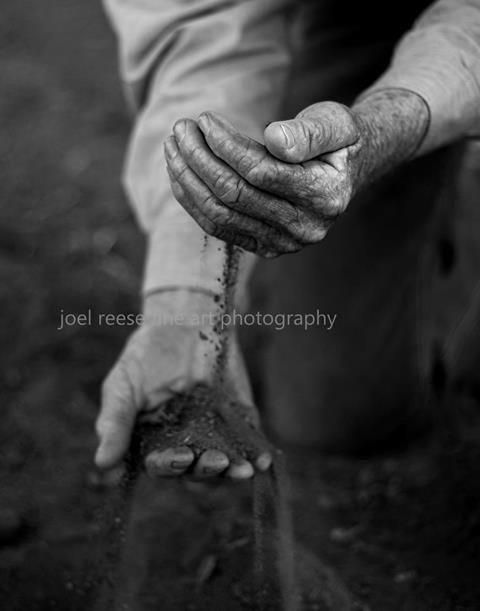 This commissioned work is valued at $1,200
A limited (20) signed, Fuji  Pearl black and white 11x14 prints of "The Farmer's Hands" are available for purchase at $249 with a matted and framed option for $424. 16 prints are left in this release.
To order, please contact: Joel Reese 951-490-2387   info@joelreese.com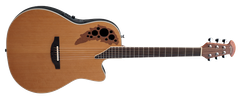 I have proudly represented Ovation Instruments since 1985.
The first guitar player I noticed as a three year old boy was Glen Campbell. Next I heard my mom's Chet Atkins records and thus began my love for the instrument.
Hit songwriter, Darrell Staedtler gave me his chord instruction book and some great advice that helped me jump in and begin playing the guitar at age thirteen. He asked me if I could count to 8. After I replied, "Yes," he stated, "then playing guitar will be easy because there are only 8 notes in the scale!" Darrell planted a positive seed in my mind and I quickly learned a handful of chords.   
The next year my Dad signed me up for classical guitar lessons. I began performing professionally in a pizza parlor at age 15. 
My most memorable guitar lesson was with legendary jazz guitarist, Barney Kessel when I was seventeen. He had an amazing gift for teaching and offered a model of discipline and balance in life.    
Over the years I've met and worked with a lot of great guitarists including Benny Garcia, Edgar Cruz, Roy Clark, Steve Wariner, Jerry Swallow, Jeff Dayton, Glen Campbell and George Benson.   
Ancient King David of Israel was asked to play the harp for King Saul to soothe his troubled soul. Music has proven power and is an amazing gift. Play music for the love of it, strive to become better and always play from the heart!
Happy Pickin' Joel